Wheelchair Minivans
CommTrans carries a line of custom built floor plans and options that will perfectly suit your passenger's needs. All of our vehicles are ADA, FMVSS, and CMVSS compliant for commercial use.
  OPTIONAL RETRACTABLE BELT SYSTEM
  OPTIONAL FOLD AWAY SEAT FOR UP TO 6
  CAN USE STANDARD PARKING SPACES
  1 OR 2 WHEELCHAIR BUILDS
Built on a Dodge Grand Caravan chassis, this ADA compliant wheelchair minivan is available with an optional retractable wheelchair securement system, 2 wheelchair positions, and seats up to 6 with optional flip and fold seats. Go to the Rear Ramp Grand Caravan Wheelchair Minivan page.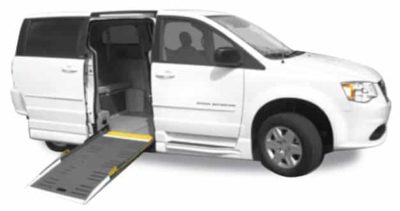 FRONT WHEELCHAIR POSITION
  OPTIONAL POWER RAMP
  SEATS 4 + 1 WHEELCHAIR
  REMOVABLE DRIVER & PASSENGER SEAT
Built on a Dodge Grand Caravan, this side ramp wheelchair minivan comes standard with a manual side ramp, removable front driver and passenger seat, and a wheelchair securement position in the front passenger area. Go to the Dodge Caravan Side Ramp Minivan page.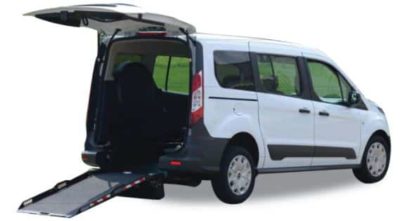 RAMP FOLDS FLAT AND IS HIDDEN WHEN NOT IN USE
  REAR AREA CAN BE USED FOR LUGGAGE
  DUAL SLIDING DOORS
  SEATS 5 PASSENGERS + 1 WHEELCHAIR
The Ford Rear Ramp Wheelchair Minivan gives you the passenger capacity of a minivan, yet converts to wheelchair accessible in minutes without losing any passenger seating.  Built on a Ford Transit Connect, it accommodates 5 plus 1 wheelchair with no need to fold or rearrange the seats.  The exclusive Flex-Flat ramp folds flat in the rear of the vehicle to create usable cargo space when not in use. Go to the Ford Transit Connect Wheelchair Minivan page.